Sugru - Mouldable Glue - 3 Pack - Wit
Sugru, 's werelds eerste kneedbare lijm die verandert in rubber.Dankzij de gepatenteerde silicium technologie, kleeft Sugru aan elk oppervlak en het is flexibel en duurzaam is.
15,49€

BTW inbegrepen

Voorheen 17,99€Je bespaart14%
---
| | |
| --- | --- |
| | |
Verzending via DHL Global Mail: 0 euro

Een voordelige ongetraceerde optie met goede prijs-kwaliteit verhouding, geschikt voor bestellingen die minder dringend zijn. Geschatte levertijd is 4 tot 8 werkdagen. Het aantal werkdagen gaat in 1 dag na de verzending.

Verzending via tracked mail service : 7,99 euro

Geschatte levertijd is 3 tot 4 werkdagen. Het aantal werkdagen gaat in 1 dag na de verzending.

DHL Express: 13,50 euro

Een snelle getraceerde bezorgservice die levert in slechts 24 uur.
Gegarandeerde bezorging 24 uur na verzending.

De DHL Express optie wordt standaard geselecteerd voor bestellingen van meer dan 60 euro. DHL levert niet in het weekend, bestellingen geplaatst op vrijdag worden maandag bezorgd.

Snelle en veilige verzending beschikbaar
Snel en eenvoudig retourneren 30 dagen
Gratis bezorgmethode
Beveiligde betaling met 256-bit-codering
Klantenservice beschikbaar
Meld u aan voor een zakelijk account
Meest nuttige beoordelingen
Reviews
248425

Prima product!
Makkelijk te gebruiken.

238456

Flink wat kabels kunnen fixen!

| | |
| --- | --- |
| | Anoniem |
| | 18th december 2018 |

248981

Ik gebruik Surgu voor spoedreparaties aan mijn surfboard. Het is daar zeer geschikt voor dicht goed en is schuurbaar!

| | |
| --- | --- |
| | Jan de Lange |
| | epoxy surfboard |
| | 16th juni 2019 |
Waarom kopen?
Plakt op vrijwel elk oppervlak
Uiterst veelzijdig
Gemakkelijk te vormen
Sterk en Duurzaam
Zacht met een goede grip
Gemakkelijk te verwijderen
Omschrijving
Plakt op vrijwel elk oppervlak
Er zijn bijna geen grenzen aan wat je kunt bevestigen met de Sugru - het kan permanent glas, metaal, hout, keramiek en de meeste andere kunststoffen vasthouden.
Uiterst veelzijdig
Sugru is geschikt voor vele verschillende toepassingen, dus als het gaat om je mobiele telefoons zijn er tal van toepassingen. Sugru is ideaal voor het toevoegen van extra grip op een telefoon of case en is ideaal voor het vast maken van gebroken / beschadigde kabels, dit omdat het zowel flexibel als elektrisch isolerend is.


Gemakkelijk te vormen
Eenmaal geopend, heb je 30 minuten om je Sugru in de gewenste vorm te krijgen. Je kan het gebruiken voor reperatie,bouwen, voor het sluiten/vastmaken van een object of om dingen aan elkaar te kleven. Na 24 uur de Sugru te hebben ingesteld, veranderd het in een duurzame siliconenrubber. Heb je haast? Laat je Sugru in een warme plek achter om de uitharding te versnellen.
Sterk en Duurzaam
Eenmaal ingesteld, kan de Sugru alles aan wat je er maar op gooit. Het is weerbestendig, en dus zal het niet nodig zijn om telkens een vervanging te kopen als je het in de zon hebt gebruikt, het is zelfs zeewater bestendig. Het is tempratuur bestendig van -50 ° C (-58 ° F) tot 180 ° C (356 ° F), binnen deze grenzen zal de Sugru niet verharden, zachter worden of smelten.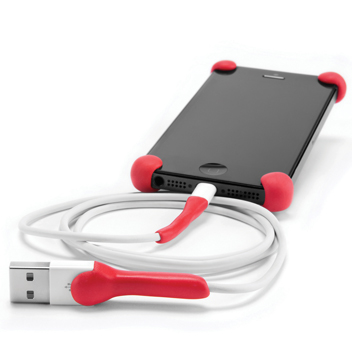 Zacht met een goede grip
De siliconen eigenschappen zorgen ervoor dat de Sugru zacht aanvoelt, maar tegelijktijd biedt het ook aanzienlijk goede grip. Gewelidg als geïmproviseerde autohouder of het toevoegen van een beetje extra grip op uw telefoon, kabel of case.

Gemakkelijk te verwijderen
De Sugru kan gemakkelijk worden verwijderd door met een scherpe mes te snijden. Resterende residu kan worden afgenomen met de hand of met behulp van een stukje papier.
Je Gegevens
| | |
| --- | --- |
| Onderdeel nr | I000471 |
| UPC | 5060280540011 |
| Filter op kleur | Wit |
Bezorging & amp; uitslagen