De Samsung Galaxy S6 Edge + en Note5 kan met de nieuwste draadloze Fast Charge-technologie je smartphone draadloos veel sneller opladen dan de vorige smartphones oplader. Met behulp van snelle draadloze oplaad technologie, kun je je Note5 of S6 Edge+ in slechts twee uur volledig opladen.
Deze officiële Galaxy Qi draadloos oplaad pad is ontworpen om de unieke product styling van de nieuwe toestellen van de Samsung te vullen en als zodanig de perfecte thuis of op kantoor oplaad oplossing zijn voor je telefoon. Niet alleen heb je geen last meer van kabels op je bureau ruimte, maar de pad ziet er esthetisch mooi uit, met zijn gladde contouren en strakke lijnen.
De Samsung Qi Wireless Charging Pad maakt het mogelijk om je Galaxy Note 5, S6 Edge+, S6 en S6 Edge draadloos op te laden via een elektromagnetische veld en inductieve koppeling die een energie-lading aan je telefoon geeft het oplaad. Dit zorgt voor een prachtige ruimte besparende manier om je telefoon op te laden, of je dat nou wilt op je bureau, kantoor of thuis.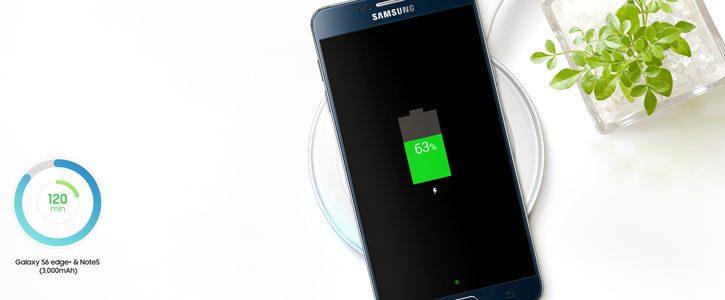 Voorzien van een over-laad preventie functie
De Samsung Qi Wireless Charger heeft een automatische uitschakeling functie dat voorkomt dat je smartphone het opladen voortzet. Dus zodra de batterij vol is zal de oplaad uitschakelen. Je bent hierbij voorzien van een slimmere, meer efficiënte oplaad oplossing ten opzichte van de traditionele lichtnetlader.
Ambient LED laadstatus indicator
De Samsung Wireless Charging Pad heeft een perfecte pasvorm met een draadloze handset opladen. Het is snel en eenvoudig te gebruiken. Deze officiële draadloze oplader beschikt ook over een sfeervolle LED-display, dat de oplaadstatus van je telefoon weergeeft door de gloeiende blauwe licht tijdens het opladen. Als je telefoon dan helemaal is opgeladen zie je een gloeiende groen licht. Dus in een oogwenk kun je weten wanneer de telefoon volledig is opgeladen.
Officiële Samsung accessoire
Dit is een officieel Samsung product en het is daarom gemaakt met de hoogste kwaliteiten en normen.